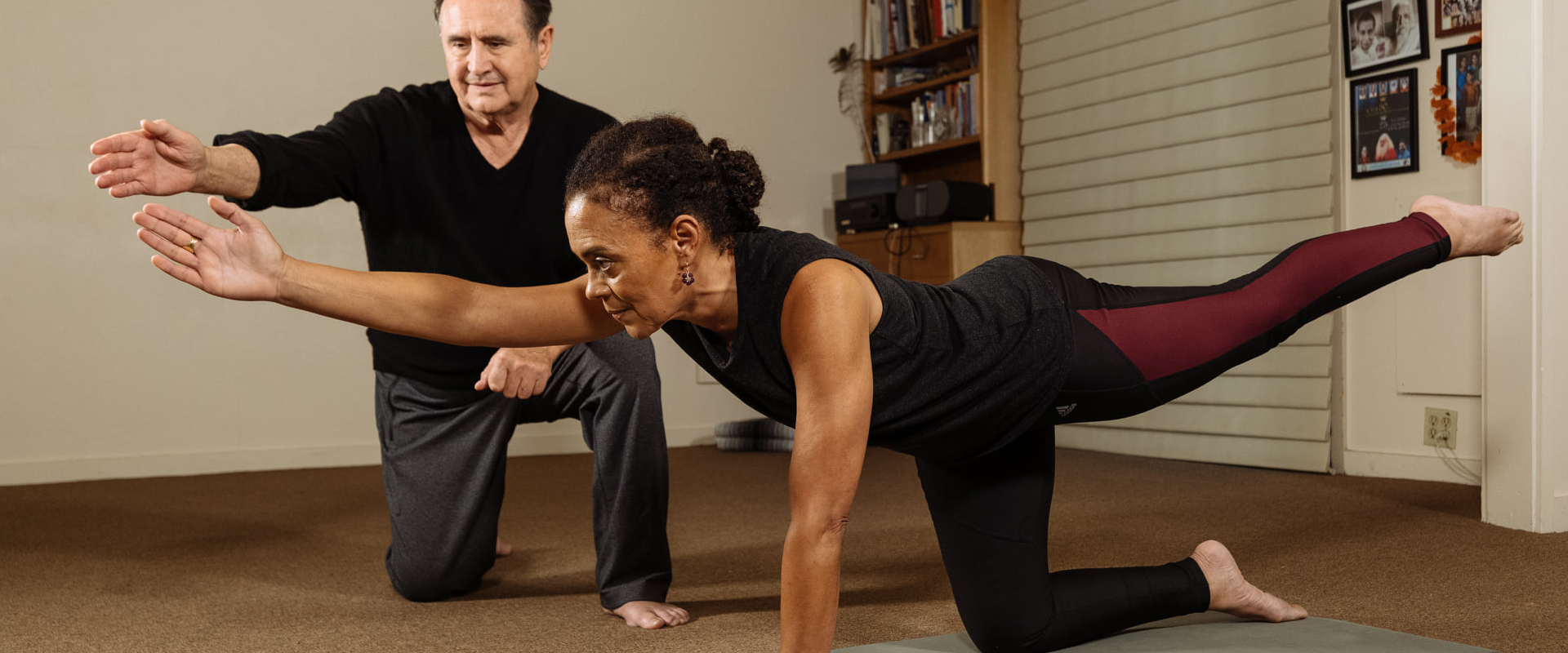 Yoga Therapy Program
Yoga Therapy is a synthesis of the ageless wisdom from the East with the recent knowledge in integrative medicine from the West. The activities of yoga, when applied in a therapeutic context, can help practitioners manage suffering or facilitate healing. The IAYT accredited Yoga Therapy Program in the Center for Religion and Spirituality prepares yoga instructors and other professionals to serve clients with health challenges in private, group, and clinical settings.
* * * * * * * * * * * * * * * * * * * * * *
July 31, 2023 Communication from CRS to Continuing Education Yoga Therapy Students
FAQs - 2023-2025 CRS Yoga Therapy Teach Out
From: Robert Hurteau, Director, LMU Center for Religion and Spirituality (CRS) - robert.hurteau@lmu.edu
Felicia Tomasko, CRS Yoga Therapy Coordinator - felicia.tomasko@lmu.edu
Dear current or former student in the LMU Yoga Therapy programs,
Greetings from the Center for Religion and Spirituality (CRS) at Loyola Marymount University. Together with CRS Coordinator of Yoga Therapy Felicia Tomasko, I am writing to give you further information on changes to programs at LMU that teach Yoga Therapy.
Before sharing more information on these upcoming changes, we also want to share two other important announcements:
CRS is creating the Certificate in Yoga Therapy Practicum for those who successfully complete both Practicum Preparation (YRTX 845) and Practicum Delivery (YRTX 846); to be clear, this is a single certificate corresponding to the successful completion of both courses, and it is being offered retroactively to all who have successfully completed those two courses in the past (and present)
CRS is planning the Yoga Studies certificate graduation that corresponds to the 2022-2023 academic year; this will be held Sunday, Sept. 17, 2023 at 2:30 PM in University Hall 1857 on the LMU Campus. The ceremony will also be livestreamed.
CRS PLAN TO TEACH OUT CONTINUING EDUCATION YOGA THERAPY PROGRAMS
FAQs - 2023-2025 CRS Yoga Therapy Teach Out
Many of you have already learned that the continuing education certificate programs in Yoga Therapy will no longer take new students; those programs which have been offered by the LMU Center for Religion and Spirituality since the beginning of its partnership with Dr. Larry Payne and Samata Yoga in 2005 will fully cease by August 31, 2025.
We want to immediately add that a different unit will be carrying forward the teaching of Yoga Therapy at LMU for any Yoga Therapy student who has already earned a bachelor's degree. It is the Bellarmine College of Liberal Arts (BCLA) Yoga Studies Program at Loyola Marymount University. You may know that both Dr. Lori Fazzio and Prof. Chris Chapple are faculty in BCLA Yoga Studies. BCLA Yoga Studies is the unit at LMU through which students earn the MA in Yoga Studies and Post Graduate Certificate in Yoga Therapy. Therefore, LMU will be phasing out the Yoga Therapy Rx continuing education certificate programs taught through CRS and transitioning the C-IAYT accredited Yoga Therapy program into Graduate Yoga Studies in the Bellarmine College of Liberal Arts under the direction of Prof. Chapple and Dr. Fazzio. If you already have a bachelor's degree, taking a graduate degree with a focus on Yoga Therapy can be a great way to continue to deepen your practice.
Just to be clear, LMU has two groups of Yoga Therapy students:
Those who already have a bachelor's degree and undertake the study of Yoga Therapy in the pursuit of the Master's degree or Post Graduate Certificate
Those who undertake the study of Yoga Therapy in CRS continuing education programs and earn professional certificates (not degrees)
It is to that second group of students that we write today; while you may be deciding if you are in one group or the other, depending on your educational goals, please read on to learn what is being planned to 'teach out' the CRS continuing education Yoga Therapy programs over the next two years.
Here are important parts of the plan for the transition of Yoga Therapy programs at LMU that are already underway:
CRS is petitioning IAYT to transfer its current accreditation to BCLA Yoga Studies
CRS is in the process of applying to IAYT to offer a 'teach out' of its programs over the next two years
The plan for the teach out will include a cross-listing of courses taught by a local trusted partner institute; the cross-listing mechanism will work like this: CRS will set up its own courses at LMU for the students completing the certificate, and the students will register for them through LMU. Students will pay LMU for these courses but will receive instruction from the partner institute with which LMU is contracting. PLEASE NOTE: the information in this bullet point corrects what was initially emailed to students on July 31, 2023.
Specific courses at partner institute will be cross-listed at LMU subsequent to a thorough review of course content
IAYT norms continue to allow for online education, so courses at the partner institute will be available online
CRS is planning to conclude the 'teach out' of current continuing education courses by Aug. 31, 2025; of course, after that point we will continue to assist students to achieve progress toward C-IAYT through referrals to BCLA Yoga Studies and other programs
Since BCLA Yoga Studies will also begin to offer continuing education courses in Yoga Philosophy and other subjects, many current continuing education students in CRS will be able to take other courses that fulfill C-IAYT requirements through BCLA Yoga Studies
REGARDING THE TWO-YEAR TEACH OUT IN CRS
We want to be clear with you that, in order to assist you on your pathway to C-IAYT completion, CRS will both offer courses (some of them cross-listed, as above) and also refer people to courses offered by BCLA Yoga Studies. But courses will only be offered by CRS just one time. So please do not look upon this two-year window and think you will be able to wait until next year to continue your progress toward the C-IAYT. Instead, do all you can to take the courses when they are scheduled.
We realize that some students may not be able to enroll when a course is offered, and with those students CRS will do as much as possible to find alternative learning opportunities so that the student can continue to make progress toward the C-IAYT. If you anticipate not being able to take courses during the 2023-2024 academic year, please be in touch with Felicia Tomasko to review your particular situation.
WHAT HAPPENS NEXT
CRS will be applying for IAYT approval of its teach out plan during the month of August. Look for an update from the Center by the end of August at the latest. We will advise you of course schedules once we have IAYT approval for our plan.
In the meantime, if you have questions or concerns, please be in touch with CRS Yoga Therapy Coordinator Felicia Tomasko (felicia.tomasko@lmu.edu). Thank you so much for your consideration of all of this, and please know that we want to support you as work toward your educational goals.